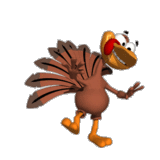 I've put together lots and lots (over 80!) of turkey freebies from TpT just in case you need some fun activites for the next couple weeks!
I hope you have fun checking them out. I like having this resource to come back to- and know everything is in one place, and thought that you might, too.
Here is one of my favorite fun turkey activities that I look forward to doing with my class each year. This is one of my favorite stories from last year- I think because she calls her one grandma, "Cookie Grandma."
The activity started out to be a "How to Make a Thanksgiving Dinner" children's recipe book when I first did this. I have changed it a little bit over the years. I start by asking the children what they are thankful for, after we have our morning lesson on being thankful. Then, I ask them what they do on Thanksgiving. Here are some questions I may ask: Do you stay at home or go somewhere? Who comes over or is at dinner with you? What do you have to eat? Who gets the turkey? Where do they get the turkey? How do they cook it? How long? How do you know when it is done? Do you do anything else special on Thanksgiving?
I love every minute of the interviews! The children color a beautiful turkey. I type up their fabulous story and put it on their turkey. Then, the turkeys go over their lockers in the hall.
I put together all of the stories in a Special Thanksgiving Dinner book that I send home with each child before Thanksgiving break, with their special turkey and story stapled on top. I include a note to parents explaining that I wrote down exactly what each child told me, and even read it back to each one to be sure it was what he/she wanted to say.
Sometimes it is just fun to see what is really important to a child, and to remember to enjoy the simple, fun moments- and not worry so much about everything else. Children will not always remember the exact details of what was planned, but they will remember feeling that it was something special.
We have lots of Turkey Math Fun in our classroom, too. My sweet friend Betty made this adorable quilted turkey for my classroom last year. The kids love him. Well, her- I guess- because her name is Cranberry. Doesn't that sound like a girl? I think so. We voted. It came down
to Cranberry or Bob.
Anyway, I wanted to think of something fun to do with her, so I decided on this quick math review.

The other skills on feathers were: Name the 2D shapes. Why are they 2D?; Name the 3D shapes. Why are they 3D?; Count to 100 Turkey Style (Clap or slap your thighs 1-4, then on the 5's you wave your feathers over your head, clap or slap your thighs 6-9, then for 10's you wave your tail feathers- continue the pattern to 100... Counting Turkey Style may not be common knowledge...) Addition/Subtraction turkey word problems to 5.


Here is a game that can be used for EVERYTHING. Just for everyday use, it is The Blanket Game. During our Eric Carle unit, it is The Hermit Crab Game. At Christmas, we call it Wrapping the Present. This time of year it is Run, Turkey, Run.
The children sit in a circle on the rug. I choose one name stick to be the child who closed his/her eyes in our back section of the room (behind a book shelf). I choose another name stick to be the turkey who hides under the blanket. We practice this game before we actually play it. I have one child peek intentionally- so he knew who was hiding, and we saw how it really took the fun away from the game. I also have the children practice being completely quiet and not giving away any hints about who is the turkey. One child is the "clue giver," if the child guessing needs a hint. This game is great practice for noticing details about friends and describing each other. (For example, "It is a girl." "This person has red hair." "This person's name starts with a B." "This person wears glasses.") It is also great for remembering names of our class friends. Here is a picture from last year of my class playing this game. The one boy in the orange is the clue giver, and the one in green is the guesser. They loved it because at the end, I got under the blanket for the last guesser, and was a REALLY BIG TURKEY hiding. (I am getting on the treadmill right after I post this...whatever, kids... I wasn't THAT BIG!)